【介绍】
Parked.com曾被誉为最专业的域名停放商。后来停止对外服务。
成立时间:2006年5月
关闭时间:2012年1月
创始人:Sig Solares
参考:https://www.crunchbase.com/organization/parked-com
Parked.com shut down their site today.
Edit: they merged the site with DomainApps.com – People have received e-mail from Parked.com informing them to use the same log-in.
Last edited: Jan 12, 2012
参考:https://www.namepros.com/threads/parked-com-shuts-down.743133/
【新闻】
新闻:https://dl.acm.org/doi/fullHtml/10.5555/1118998.1119012
DirectNIC, the domain name registrar and site hosting service operated by Intercosmos Media Group, Inc., a company founded by Sigmund "Sig" Solares, who is also its CEO. Sig was born, raised and educated in New Orleans, earning his BA, law degree and MBA from Loyola University there.
新闻:https://www.thedomains.com/2012/01/30/verizon-sues-parked-com-directnic-for-cybersquatting-on-over-600-domain-names/
列表:https://www.domainsherpa.com/tag/parked-com/
2006年,Sig Solares (Parked.com的CEO)以150万美元的竞价成功拿到了cameras.com的域名。
酒会:https://www.dnjournal.com/archive/lowdown/2008/dailyposts/09-05-08.htm
Parked.com hosted a dinner party last night in Tampa, Florida where the well-known domain monetization company is based. Clients and domain owners from around the Sunshine State were invited to the event at Jackson's Bistro on Harbour Island, overlooking the Hillsborough River.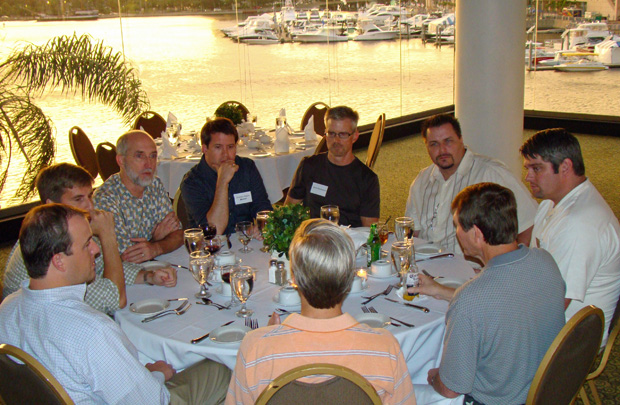 Photo above: Some of the Florida domain owners at a Parked.com
dinner party Thursday night (Sept. 4) in Tampa.
Photo below: At far left CEO Sig Solares and Christian Higgins were among the Parked.com
team members who welcomed guests from the Tampa Bay area and other parts of the state.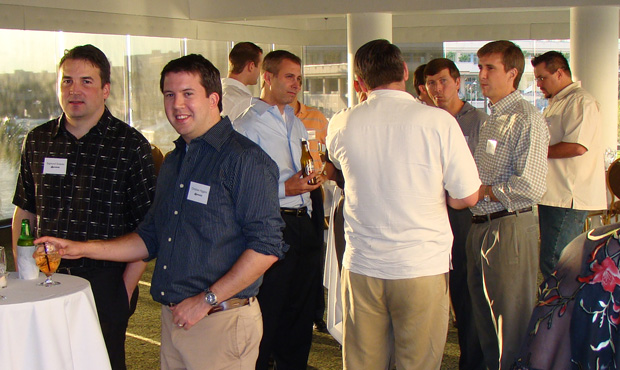 T.R.A.F.F.I.C. Co-Founder Howard Neu, his wife Barbara and son Ray (who has become an avid domainer) traveled the furthest distance, driving over from Miami. Internet Commerce Association Executive Director Michael Collins also made the trip, driving in from Orlando. Parked hosted the casual affair to give local domain owners a chance to get together with each other and, despite living in the same area, some were meeting in person for the first time.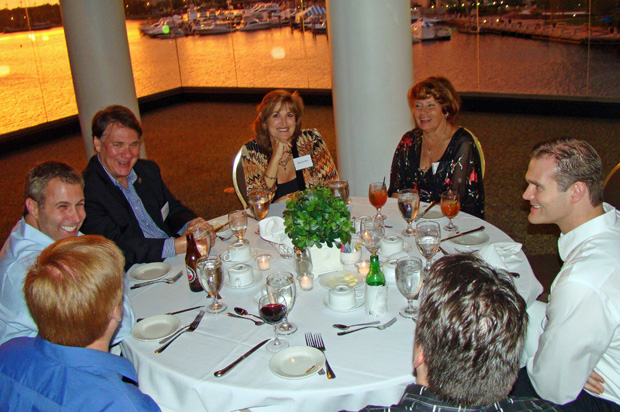 Facing the camera in the photo above are (left to right) Butch Decossas (Parked.com),
Howard Neu, Barbara Neu, Diana Jackson and Ray Neu. In the foreground  facing away
from the camera are Parked.com's Monte White (left) and Sig Solares (right).
As the domain industry continues to grow, local gatherings like this will become more commonplace. Everyone on hand had a great time and truly appreciated Parked.com's role in bringing everyone together.
(Posted Sept. 5, 2008)